We started out as a modest letter-press printing company in Chinatown Bangkok in 1953 and have grown into one of the biggest names in the industry over the past few decades.
Today, Thung Hua Sinn Group (THSG) comprises six companies, each specializing in various printing methods: Flexography, Offset, Gravure, and Digital Printing. Our packaging products can be found throughout Thailand and globally.
THSG produces labels, folding cartons, printed corrugated cartons and all types of flexible packaging for food, fast moving consumer goods, garments, electronics, medical devices and automotive parts.
THSG is certified with international accreditation for quality production and food safety such as ISO 9001, ISO 14001, GMP, HACCP, BRC/IOP, SEDEX and OHSAS 18001. We make sure that every production process adheres to the internationally recognized environmental guidelines, such as FSC™ CoC, we are also the only company that is 100% toluene-free in our TPN FoodPak unit. We are leading the industry in utilizing new technologies to reduce greenhouse gases and harmful waste, for the benefit of our environment.
Our Evolution
Thung Hua Sinn was established as a printing company in Chinatown, Bangkok, main products were stationery, schoolbooks, and calendars
Installed a gravure press for flexible packaging
Installed the first offset printing machine
Relocated from Chinatown to Sukhumvit 54, Bangkok
Installed the first multi-color offset printing press
Installed the first four color offset printing press
Moved to the 3,500 square meter facility in Sukhumvit 54 which houses an extensive printing service -- Prepress, Press, Post press under one roof
Founded Thung Hua Sinn Printing Network (TPN)
TPN began production in a fully equipped folding carton packaging facility with comprehensive service, located at Wellgrow Industrial Estate in Chachoengsao.
Founded TPN FlexPak Co., Ltd.
TPN FlexPak became the first in the region to use the flexo printing process in a fully equipped flexible packaging facility providing comprehensive service at Wellgrow Industrial Estate in Chachoengsao
Installed the first 1.3 meter 8 colors wide web flexo printing machine in Thailand
Installed the first computer to plate (CTP) wide format plate making technology in Thailand together with 3 layers co-extrusion blown film line, solventless lamination machine and bag making machines
Installed the first 1.30 meter 10 colors wide web flexo printing machine in Thailand
Founded TPN Medical Co., Ltd. which specializes in medical packaging for the medical device manufacturers market
Founded TPN FoodPak Co., Ltd.
TPN FoodPak became the first only non-toluene gravure printer located at Wellgrow Industrial Estate in Chachoengsao
Installed one 8 - colors gravure printing machine and 1 solvent based lamination machine
Installed another wide format 3-layer co-extrusion blown film line for TPN FlexPak
Installed a new 8 colors flexo printing machine for TPN FlexPak
Thung Hua Sinn Co., Ltd. was relocated to new facility at Wellgrow Industrial Estate resulting in the biggest one time purchase of all new Heidelberg Speedmaster XL75 offset printing machine (total 32 printing units and coating unit)
Founded TPN Packaging Co., Ltd.
TPN Packaging Co., Ltd. began production in a heavily automated and fully integrated packaging production facility using high-end offset printing and converting machines, located at Wellgrow Industrial Estate in Chachoengsao.
Thung Hua Sinn purchased 37 units of the latest version Heidelberg XL-75, to update our technological advantage
Core Values of THUNG HUA SINN Group
People – We build our organization from within
Customer Focused – We strive to achieve customer satisfaction
Leadership – Lead by example
Efficiency – We value efficiency within our organization and in designing packaging solutions for our customers
Innovation – We are always developing packaging solutions to be in the lead of the packaging industry.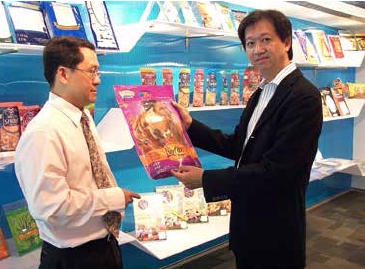 Global Compliances
Environmental Responsibility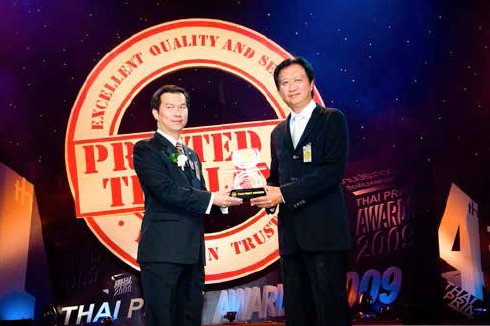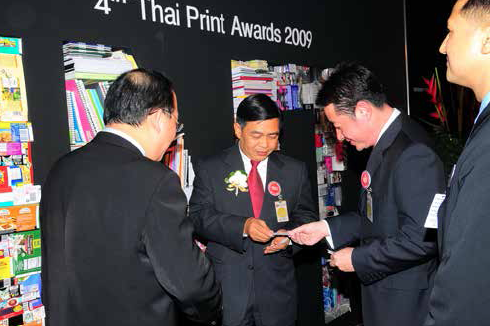 Awards
From humble printing origins, to becoming the best in the packaging industry. Thung Hua Sinn's vision throughout the years hasSlider always been focused on being the leader in packaging innovations. THS invests highly in research & development for material, product design and print technology, that shows in our award winning solutions.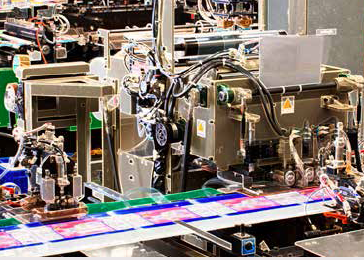 Technologies
At Thung Hua Sinn Group, we aim to provide economies of scope solutions for our customers. We have fully integrated Flexo, Gravure, Offset and Digital printing technologies for paper and plastic substrates, within the THS Group to support all industries.